Meena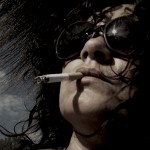 Meena Cryle has polite resistance when you see her first time, no attitudes, no special requests, no small talk. A self taught musician with an acute hearing, a immens vocal range and the capability to write great songs with quality.
She was born in a little austrian village. One of her forfathers, an organ player, was an early spin docotor of the famous song "Stille Nacht, Heilige Nacht". But as Meena says, there was nothing special about music in her family, it was natural to sing and play an instrument.
Later on Meena strumbeld, she left home when she was sixteen and Chris Fillmore picked her up in a train and made her to the singer of his band.
Meena never was a typical entertainer. When she walks on stage she looks chary but her agitation is special and expressive. The emotion that comes with her voice is breathtaking.
She travelled a lot, allone, with friends and always with her guitar. She studied, went to africa, came back and moved to Vienna. There still was the connection to Chris Fillmore and in 2009 they made their first record deal.
Meena can´t be described with just two words, same with her music. Even if you try hard, you won´t find a word for the mixture of early austrian folkmusic, blues, soul, rock, singer songwriter, punk – as she says by herself  " I´m influenced even by the background music in the supermarket".
She recorded in teamwork with Chris Fillmore and cooperated by Ruf Records her first record in Memphis and went on Tour with the "Bluescaravan". As "Meena Cryle & The Chris Fillmore  Band", they were nominated for the European Blues Challenge and the International Challenge in Memphis, also for the Austrian Amadeus Awards. Meena headed the way of the Band consistent in the right direction and right means for her – compromisses only if she likes them.
Meena is a born musician, she can´t measure her special effect on the audience – for her the tone is the key.