Meena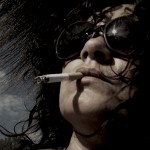 Meena Cryle is a phenomena…
When Meena Cryle brought out her first Cd "try me" on Ruf Records and espacially when people got the chance to see Meena acting on stage, everybody realized – there´s a special kind of person and exceeding musician on the way to capture the music business.
She shines and she is real in every thing. Her voice got´s this special kind of thing that´s rare and Meena know´s exactly how to use it.
She´s one of the musicians who are able to combine the talent of a songwritter with the talent of an outstanding singer. Beside one or two really creative coversongs, all of the songs with The Chris Fillmore Band, on stage and also on their CD´s, are written by themselve.
Beside her undoubted musically talent, Meena got´s this very unique thing – she´s got a great and very touching soul. You can hear it in every ton she sings, you can see it in her face when she´s on stage and most of all, and that´s the one thing that makes the difference between a muscian and a musician – you can feel it.
When Meena talks on stage and tells the story of Chris Fillmore and her being on stage for nearly twenty years – it´s the truth.  In 2010 she made her first label deal and things started to change more into a international direction, Meena impressed the Blues Socity in Europe as well as the  blueslovers in the United Staates. And for shure they didn´t expect a blues singer like her could be born in a little austrian village.
No matter what kind of music you like, if you´re one of those lucky one´s, who are able to listen to music and not just to consume, you should go out and listen to Meena Cryle on stage –  she is a phenomena.